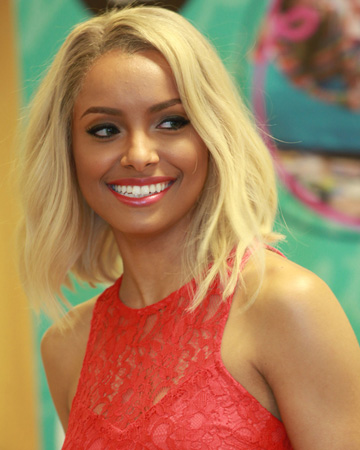 Kat Graham
I have to admit that when I first started watching Vampire Diaries I was not a huge fan of Kat Graham. Bonnie was alright in the first few seasons but lately I am just not a fan of the character and because of that I never really got into Kat either. Lately though I have been loving her style and her recent dye job has me totally flipped into a fan.
Have you guys seen this Vampire Diaries star with her short blonde locks? I love the choppy loose look she has going on, it looks edgy, cool, and chic. It also looks totally easy!
I really like the lighter locks paired with her bright lipstick, and it goes perfectly with her outfit. I think she looks great with this hair length and colour, and if I had that much confidence I might try to pull it off myself.
I've never really listened to her music before either, but now that she's caught my eye with her beauty and hair looks I am going to give it a chance.
I was really surprised with how much I liked this look, but Kat Graham can definitely rock it and I am definitely a fan now!